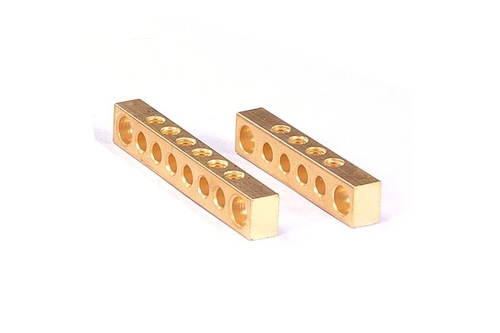 Brass Neutral Link
Product Code : 03
Product Description
We manufacture Brass Neutrals Links in various sizes & dimensions like:
Brass Neutral Link 12 Holes

Brass Neutral Link 17 Holes

Brass Neutral Link 19 Holes

Brass Neutral Link 25 Holes
Brass Neutral Link 30 Holes

Brass Neutral Link 35 Holes

Brass Neutral Link 40 Holes and many more..
These Brass Neutral Links are installed in various types of Distribution Boards, Panel Boards, Switch Gears and Electrical Switch Boards
Size :Shall be manufacture only as per Customer's specified Drawings and Samples.
Threading :Various types and sizes of Threading like B.S.W., B.S.F., B.S.B., B.S.P. & B.S.P.T as per British Standard Whitworth Form and N.C. & U.N.C., N.F. & U.N.F., N.P.T & N.P.S., N.S., N.E.F. etc as per American National Form Threads are available. All threads shall be as per International GO & NO-Go Standards.
Plating/Finish Available : Various types of Plating/Finish like Natural, Nickel, Silver, Tin or as specified are available as per specified layer of microns.
Material : High grade free cutting brass as per IS 319 (Type 1) or BS 249 (Type 1), C3600 or any other special Brass material composition as per customer requirement.
Typical Application : Instrumentation, Telecommunications, and other Plastic Cases Assembly.
Terminal Blocks
Heavy Duty Terminal Block

Modular Terminal Block

Pluggable Terminal Block
Power Blocks, Terminal Block

Printed Circuit Board, Terminal Block

Regular Duty Terminal Block
We Offer Terminal Bars, Neutral Links, Earthing Block, Earthing Bars, Brass Earthing Bars, Panel Board Switch Gears, Electrical Switch Boards, Brass Terminal Bars, Neutral Links, Brass Neutral Links, Neutral Bars, Terminal Blocks, Brass Terminal Blocks, Electrical Neutral Links, Brass Electrical Neutral Links Can Be Developed And Supplied Exactly As Per Customer Specifications
Contact Us
Plot No. 3732, GIDC Phase 3, Dared by Pass, Jamnagar, Gujarat, 361005, India
Phone :+917259668147