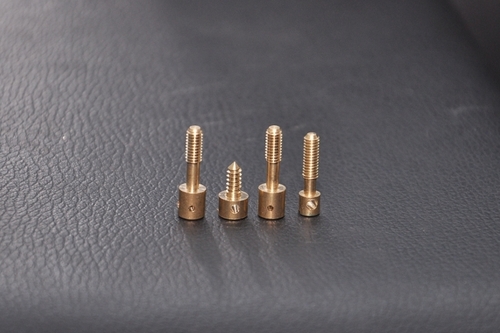 Brass Top Cover Sealing Screws
Product Code : 04
Product Description
Brass Top Cover Sealing Screws

We manufacture various types of Screws installed in different types of Single Phase & Three Phase Energy Meters, which are as follows:
Brass Sealing Screws

Brass Grub Screws

Brass Terminals Screws

Brass Pillars
Brass Worms

Brass Bush

Brass Cleat Nut etc.
These screws have various applications like fixing Copper wire in Brass Terminals, Fixing Terminal Block, Closing Plastic Case of Energy Meter, etc.
Size: hall be manufacture only as per Customer's specified Drawings and Samples.
Threading:
Various types and sizes of Threading like B.S.W., B.S.F., B.S.B., B.S.P. & B.S.P.T as per British Standard Whitworth Form and N.C. & U.N.C., N.F. & U.N.F., N.P.T & N.P.S., N.S., N.E.F. etc as per American National Form Threads are available. All threads shall be as per International GO & NO-Go Standards.
Plating/Finish Available:
Various types of Plating/Finish like Natural, Nickel, Silver, Tin or as specified are available as per specified layer of microns.
Material:
High grade free cutting brass as per IS 319 (Type 1) or BS 249 (Type 1), C3600 or any other special Brass material composition as per customer requirement.
Machine screws are available in countersunk, Philips head screws, Raised head slotted screws, Pan head slotted screws, Round head slotted screws, Socket head screws, Terminals screws for connector block, Knurled slotted screws (thumb screws), Slotted grub screws, Special head screws & cheese head screws. Brass screws with various diameter and slot depth are also available.
Brass Screws Fasteners, Brass Book Screws Fasteners, Brass Binder Head Screws Fasteners, Brass Torx Head Screws Fasteners, Brass Hexagonal Head Screws Cap Screws
Contact Us
Plot No. 3732, GIDC Phase 3, Dared by Pass, Jamnagar, Gujarat, 361005, India
Phone :+917259668147